The assassination
After Heydrich's clampdown on the Czech underground, such as it was, Beneš recognized that any further sabotage or intelligence gathering was going to rely on paratroopers trained in Britain and dropped into the Protectorate. Squads were also trained for 'anti-personnel attacks' – assassinations. As MacDonald writes,
If Beneš felt his credibility in London and Moscow depended on dramatic evidence of Czech resistance, he also feared for his position at home as a result of Heydrich's police measures. The parachute groups were not only to impress the allies but also to act as a rallying point for the badly shaken underground.
But Beneš was careful never to go on record calling for an assassination, although he did meet with the assassins before they left Britain. He would later deny any role in its planning and execution.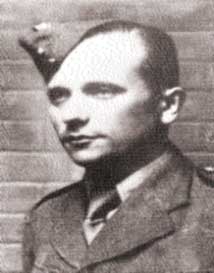 Two soldiers were chosen to carry out the assassination. Josef Gabčík (first photo at right) was a Slovak and Karel Svoboda was a Czech. Svoboda later suffered a concussion in parachute training and was replaced by Jan Kubiš (second photo at right), also a Czech. Informed of the mission, they volunteered without hesitation. They were to work without the foreknowledge of anyone in the underground, to reduce the chances the mission might be leaked. The assassination was originally to be carried out on 28 October, the anniversary of the country's independence.
Several other missions were prepared parallel to Operation Anthropoid. Two of these, Silver A and Silver B, were to help re-establish communications between the resistance and London. Operations Iron and Tin were planned as assassinations. Iron was later cancelled, but its target appears to have been the doddering President Hácha. Tin was to kill Emanuel Moravec, an ugly little toad of a man who was Minister of Propaganda. A sabotage mission, Operation Steel was renamed Out Distance. (No, I don't know how they came up with these names either.)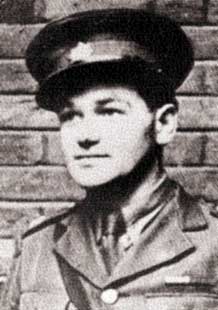 Anthropoid, Silver A and Silver B – nine soldiers in total – were dropped east of Plzeň on the night of 29 December 1941. Silver A got separated in the jump and Silver B lost their radio. Members of Silver A promptly went to visit their mothers and started fighting over sweethearts, but managed to set up radio communications. Anthropoid had a rough landing far off target and were lucky not to be discovered by the Gestapo. Several months later, they were reunited with Josef Valčik of Silver A.
In April, Gabčík, Kubiš and Valčik were diverted to assist in bombing mission, which largely failed. Many parachute squads were being dropped in and many of them were being captured. The Nazis were on the alert and rumours of assassins were abroad in Prague. Even Heydrich was aware of a plot to assassinate him, but he refused to believe the Czechs would commit suicide by killing him. The contacts the men had made in the underground resisted the plan, fearing the reprisals that would follow, and begged London to call off the mission.
Beneš refused. His parachute missions were failing and he needed both military and political victories. He wrote in a message to the resistance that action was necessary 'even if it had to be paid for with a great many sacrifices'.
Before they left Britain, Gabčík and Kubiš had determined the best way to kill Heydrich would be to attack him in his car with gunfire and explosives. Heydrich's residence was in Panenské Břežany, just north of Prague. From what they knew of Heydrich's schedule, the day would have to be 27 May. The assassins needed to find a sharp turn on Heydrich's route where his car would slow down. They found one north of Holešovice, where the streets Zenklova and V Holešovičkách meet today.

I went to
the site
on Tuesday. Even today, cars have to slow down considerably to make the turn. There are no markers of the event, but three streets in the area preserve the memory – Gabčíkova, Kubišova and Valčikova. A man I stopped on the street told me the attack would have taken place roughly at the Vychovatelna stop for buses headed to Nádraží Holešovice. At the corner of Zenklova and Gabčíkova (photo at left) is a fence that looks very much like one in photographs taken at the scene of the attack by investigators, but the man told the streets had changed much since then. At that time, it was largely a green area with few houses. Today, it is dominated by major traffic arteries, underpasses and an ugly blue building with the name Prometheus on its wall.
On the morning of 27 May, Gabčík, Kubiš and Valčik rode bicycles to the planned scene of the attack. Valčik took a high position watching and was to signal with a mirror when Heydrich's car was approaching. Kubiš stood under some trees on the inside of the sharp corner, ready to throw grenades into the car. Gabčík stood on the opposite side of the rode with a light automatic.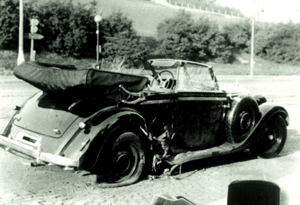 After a long wait, Heydrich's black Mercedes Benz 320 came down the hill. At about the same time, a tram was climbing the hill. As the car slowed into the turn, Gabčík walked into the street, aimed at Heydrich and squeezed the trigger. The gun jammed. Realising Gabčík was an assassin, Heydrich stood up, drew his pistol and ordered his driver to stop. At that moment, Kubiš threw a grenade, which landed just outside the car (photo at left). Shrapnel hit Heydrich, his driver and Kubiš and shattering the windows of the tram, which had come to its stop.
The driver went after Kubiš, who got on his bicycle and rode quickly down the hill. Valčik escaped undetected. Heydrich attempted to chase down Gabčík, but was too seriously injured to pursue him far. As Heydrich collapsed, he ordered his driver to follow Gabčík, who apparently ran up the hill and down the street that now bears his name. He attempted to hide in a butcher shop (the only building in the vicinity today that looks like a storefront is at Gabčíkova 19), but found no help. He barely escaped into a side street.
Heydrich was mortally wounded. Shrapnel broke a rib and bits of horsehair and wire from car seat penetrated his spleen. He was delivered to Bulovka hospital, where he died a week later.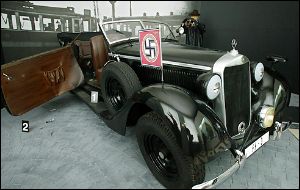 The Czech Army Museum has a pretty good
exhibition
on the assassination, with lots of artefacts like letters Gabčík and Kubiš wrote, weapons and Heydrich's car (photo at left). The Mercedes was repaired, but the museum has 'restored' it to something like the condition after the attack. There is also a wealth of material on the soldiers' capture and the reprisals, but I'll leave that for another day.